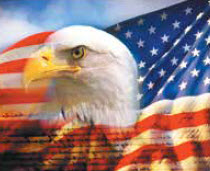 By: Ali Elizabeth Turner
In 1945, Harvey Drahos was 22 years old and was severely wounded in the Battle of Okinawa. Sensing that death was near, he made a deal with God that if he survived, he would dedicate his life to helping people.  And, the man who turned 100 in January of this year has done just that.
In spite of dealing with PTSD, in an era when the condition was little understood, along with brain damage and shrapnel damage in his wrist, Harvey Drahos has never been awarded the Purple Heart he so richly deserves. He turned 100 years old this past January, and would like to have his Purple Heart before he passes.
So, what is standing in the way? Well, for openers there was a fire years ago that destroyed the records of what happened to him in Japan. He was mistakenly listed in his discharge papers as having served in the 90th Regiment, when in fact he served in the 96th. He was told by an employee at the Army that he was going to have to find another way to prove where he served and what happened.
So far, Mr. Drahos has appealed to "the powers that be" a total of eight times to set the record straight, and to date has not been successful. In addition, several veteran's organizations, senators, and representatives have endeavored to get Harvey his "heart," and he is still waiting.
Enter members of his community near Olympia, WA, including a woman by the name of Karen Schoessel, who had the pleasure of first meeting Harvey at a Kiwanis Club meeting on Valentine's Day. They became friends and she became aware of his situation. His generosity and acts of service to the members of Kiwanis were well-known throughout the group, and one day, when a scheduled speaker didn't show, Harvey got up and extemporaneously began to tell his story, his accomplishments, and the situation with the Purple Heart.
Karen Schoessel knew that her goal was to get Harvey his medal before he turned 100, and is determined to see it through. Now there is a young YouTuber by the name of Risi Sharma, who has made it his life's work to preserve the stories of WWII vets. Risi had never been to Olympia in his trek about America filming veterans, but heard Harvey's story and knew that between the age of the man, and the power of his story, he needed to get involved.
Risi made sure that he captured Harvey's statements, which will continue to inspire us long after Drahos is gone, and irrespective of whether he ever receives the medal he deserves: "I feel my story could tell the younger people that if they have a goal in mind and dedicate themselves, they can do those things," Drahos said. "You've got to enjoy each day, what you're doing. Keep your mind positive, and absolutely make your own decision relative to you and your future." In this season of celebrating our nation's birthday, let us remember that the Greatest Generation has justly earned the title, and let us pray that Harvey Drahos is not awarded his medals posthumously.
By: Ali Elizabeth Turner