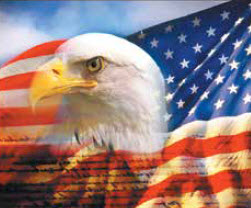 By: Ali Elizabeth Turner
In 2011, when our area was hit so hard with twisters, we all became deeply thankful for "the kindness of strangers." Of course, our first responders of every type were heroic in ways that have become a part of our Athens-Limestone culture and lore, and they will always have our undying admiration for their undying determination to get us through that time safely. However, the focus of this article is to underscore the impact of other organizations with specific reference to the current crises in Kentucky. It is also a cautionary tale, should you choose to become involved, boots-on-the-ground.
There is a group known as the Cajun Navy, which started out as a flotilla of private boat owners who rescued Louisiana citizens after Katrina at the request of the governor. They have been in action with every major storm since, and are currently being "deployed" in Kentucky. Here is why it is fitting to have them in the All Things Soldier column: the lion's share of them are ex-military, and many of them have served in combat. They have become a 501(c)(3), and have "branches" that in addition to navy, include army and air force. They are legit; they were honored in the post-Harvey Houston Thanksgiving Day Parade with a float that sported several of those involved in the rescue, and as we speak, they are making a difference.
I spoke about the Cajun Navy with Marty McIntyre, who served for 20 years as an NCO (non-commissioned officer), was in Desert Storm, retired from the Army, and went back to Iraq as a DOD contractor. He had been hired to take care of Saddam's swimming pools which our soldiers were able to use in the 130-degree weather, but in reality, that was his cover story. Marty was more importantly what is known unofficially as a "plat daddy." A plat daddy is someone who has a God-given ability to look after everyone around them, especially the youngsters. Marty did that in spades, and during Hurricane Harvey, worked alongside the Cajun Navy with another organization whose fierce boating skills come from bowfishing. So, I called him to make sure that the Cajun Navy was worth working with or donating to. He said, "They do an awful lot of good." What then ensued was a lively discussion about the "cowboy quotient."
The "cowboy quotient" has to do with people who go and volunteer in a disaster and act like "cowboys," in that they want to be the Lone Ranger—not exactly a team player, not so good at following directions, and maybe doing it for the glory, which is counter to everything a real soldier stands for. After Hurricane Camille, the cowboys were such a problem that they ended up having to be rescued themselves. Marty told me there were a few of those kinds of guys with the Cajun Navy, but only a very few. His sentiment was, "Cowboys, stay home!" So, if you are looking for a different way to give and receive this Christmas, and most importantly, you are someone who does well in a disaster and knows how to work with a team, then consider going and helping. Or, you can donate to the Cajun Navy and help them to do it. We know what it was like for folks to help us, so consider paying it forward to our neighbors two states up. But please, cowboys, go ride a mechanical bull if you can find one, and just send your bucks. Merry Christmas to the Cajun Navy, and thank you for your service!
Those who would like to volunteer or storm victims who need assistance can learn more at https://crowdrelief.net/. Those who would like to help financially can donate at https://cajunrelief.org/donations/donate-cajun-navy-foundation/
By: Ali Elizabeth Turner