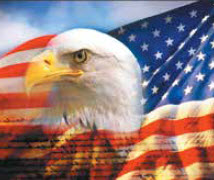 By: Ali Elizabeth Turner
In 1943, Tanner resident Juanita McQueen was 11 years old, and her family, who has always been a tribe that has "served those who serve" lived in Birmingham. WWII was in full swing, and speaking of "swing," Miss Juanita's sister, whose name was Lee and was several years older, would volunteer at the USO Center on Saturday nights and dance with soldiers who were home on leave. Juanita told me that she loved to watch the dancing, but of course she wasn't old enough to participate. Miss Lee would ask the soldiers if they would like to have a home-cooked meal at her parents' home on Sunday, and invariably they accepted the invitation if they could. Often the soldiers would ask if they could pay, and instead of money, what was requested, if at all possible, is that they would leave a patch that designated their unit. That began what became "the blanket," and as you can see from the picture, it translated into a lot of suppers. The "Patch Project" began to take on a life of its own, which I'll explain below.
Miss Lee began to write letters to several Allied generals explaining what they were doing and requesting patches. No less than Omar Bradley, who became a 5-star general and eventually the Chairman of the Joint Chiefs, sent a patch which was enclosed in the letter he personally penned. That letter, along with others, are among the legacy of her family. As I sat in Miss Juanita's living room looking at her book of memories, I took a long look at the Army "olive drab" blanket that showcases the patches and was in awe of what a treasure of military history we have here in North Alabama.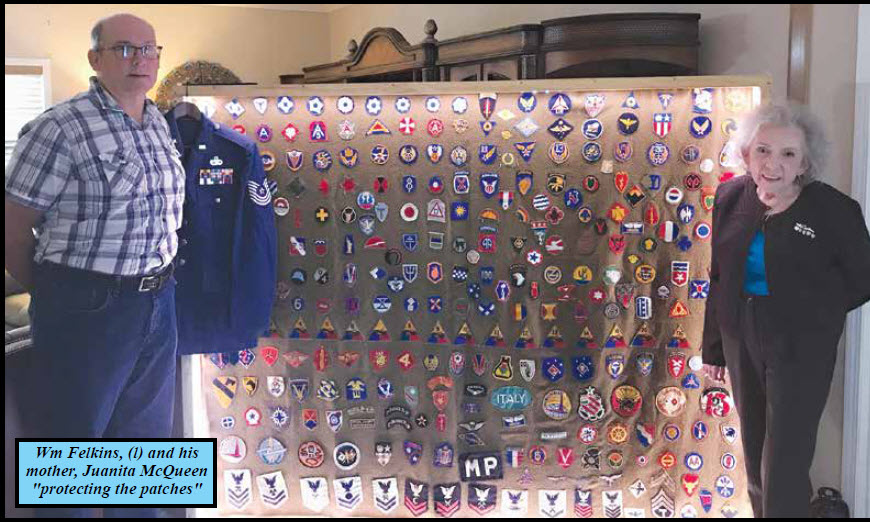 Miss Juanita has two children who were career military, and the whole family has always served. Some were on famous WWII battleships, some in Korea. Her children's names are Diana LaVigne, who served for 20 years and retired from the Air Force as a tech sergeant, and her brother, William Felkins, who was recruited by his sister. William retired from the Air Force as a master sergeant. Diane spent some time working in Egypt, and William did everything that had to do with airborne tactical missiles and served in Desert Storm. He also spent many years on Redstone Arsenal.
While it is a little bit difficult to see, on the lower right quadrant of the blanket is a patch that is oval in shape, green in color, and has the word "Italy" on it. That is actually a Prisoner of War patch from WWII that was brought home by an American soldier who had been held there. As I said, this is no small treasure trove of memorabilia.
At 90 years young, Miss Juanita is going to be moving soon from her place in Tanner to be closer to her family that lives in Cullman. She reached out to me to see if it would be possible for Athens Now to tell the "Ballad of the Blanket," and I had the privilege of hearing all about it from Miss Juanita and her son. Tears of gratitude for being Americans, as well as having the privilege of honoring our heritage and the ones who put themselves in harm's way so we can remain free, were flowing unabashedly. It was indeed an afternoon I shall never forget, and I hope you enjoy "the Blanket" as much as I do.
By: Ali Elizabeth Turner