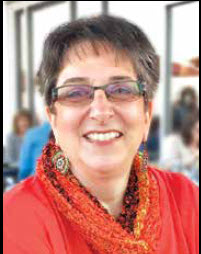 By: Lynne Hart
It's Wacky Quacky Ducky Derby time! On Saturday, October 8, hundreds of little yellow rubber ducks will race down the spillway at Big Spring Memorial Park in Athens vying for one of several great prizes, including the $2,000 GRAND PRIZE!
Specially-designed and numbered rubber racing ducks can be adopted for $5.00 each, or a Quack Pack of 6 ducks can be adopted for $25.00. Each Quack Pack purchaser will also receive a special gift to be announced. The name of the purchaser and their duck numbers are entered into our computer so we know who adopted each duck.
The ducks are then raced in heats. The number of winning ducks in each heat will be determined by the number of prizes at the time of the event. Heat winners will then be placed in the Championship Race. The first duck through the duck trap in the Championship Race will win the Grand Prize of $2,000! All ducks in the Championship Race will take home a prize based on the order they come through the trap.
Our wacky ducks have been running amuck each year since 2001! All prizes are donated, so every dollar spent to adopt ducks goes directly to the KALB organization and supports our programs. Activities include community cleanups, Adopt-A-Spot, classroom and community education, annual Earth Day & Outdoor EXPO, household hazardous waste collections, and more.
Here is a current list of prizes, with more coming in weekly!
$2,000 Grand Prize
1 Night Stay at Marriott Shoals Hotel and Spa plus Dinner for 2 at 360 Grille
$250 Osborne's Jewelers Gift Card
$250 Cash – Morell Engineering
$100 Cash – First National Bank
$100 Cash – Morell Engineering
$100 Hobbs Jewelers Gift Card
$100 Publix Gift Card
4 Flex Tickets – Theatre Huntsville
2 Flex Tickets – Theatre Huntsville
2 Flex Tickets – Theatre Huntsville
Lazy Duck Award for last duck in each heat provided by Dub's Burgers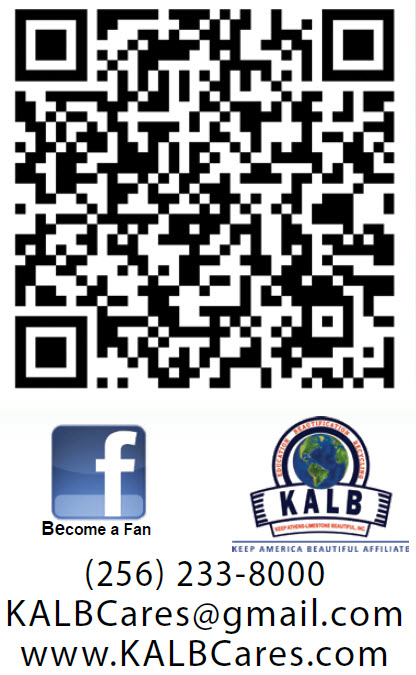 HOW TO ADOPT DUCKS
Adopt Ducks Online: Scan the QR Code on this page which will take you to the event webpage.  Scroll to the bottom of the page for online adoptions. You can pay using PayPal or a credit or debit card.
Mail In Adoption: Scan the QR Code. Scroll to the bottom of the event page for a link to print out an adoption form. Mail with your check to KALB, P.O. Box 1089, Athens 35612.
Stop at the KALB office at 125 East St. to pick up an adoption form.
Watch your email for our newsletters with links to adopt online or print an adoption form. Not on our email list? Send an email to KALBCares@gmail.com and ask to receive our newsletters. We never share or sell email address and we never spam. Let us keep you informed.
KALB staff and commission members appreciate the community support we receive through memberships, volunteerism, sponsorships, and participation in fundraisers. THANK YOU!
By: Lynne Hart
Keep Athens-Limestone Beautiful