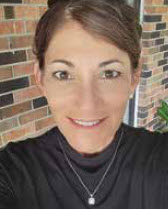 By: Tina Morrison
Athens-Limestone Tourism Partners with Alabama's TV Personality Lesley Ann Hyde
for an Interactive Roaring 20's Murder Mystery Fundraiser 
The Athens-Limestone County Tourism Association has partnered with Alabama's own Southern Ghost Girls to co-host a Murder Mystery Dinner. This fun, interactive event serves as a fundraiser for both entities while bringing an unusually fun tourist activity to Athens.
The Southern Ghost Girls is a team of women, led by Alabama native Lesley Ann, who share the love of the diverse culture of our great state. Born in Birmingham, Lesley grew up in the South and enjoys all things Southern. Her love of travel, history, science, and the unexplained gave her the idea to start her Southern Ghost Girls company. The interactive Murder Mystery Dinners are a fairly new offering to their usual tours and investigations. Lesley had the great business idea to partner with companies wanting to do interesting and different fundraisers. She and her team show up in period dress and lead the interactive 3-hour event and share the proceeds with the host. Lesley says, "I am a Christian and I especially believe in guardian angels and feel I have had one looking over me during my lifetime. I am blessed to be doing something I love, and I invite others to join us and see for themselves how fun this event is." Jokingly, she says, "A little party never killed nobody!"
The event takes place in the Athens-Limestone Visitors Center Meeting Room on Saturday, March 11, and Roaring 20's dress is optional. After checking in at 5:30 p.m., there is a photo opportunity, then during Round 1 from 6-7 p.m., there are character assignments and introductions. A delicious Southern-style dinner, catered by local restaurant Ramona J's takes place from 7-7:30, then "the murder" takes place during Round 2. The final round from 8:30-9:30 is when the suspects are announced and the murderer is revealed. All correct guesses are entered into a drawing for a prize. The $700 prize package includes generous donations from Bama Limousine, Limestone Legends Billiards, Mad City Kenpo Self Defense, Donna Poston Realtor, Phillips Creations, and The Last Word Vinyl.
The limited number of $65 tickets sold out in 2 days, but we will be planning another one soon. The Athens Limestone Tourism Association's office is just a few blocks off the Courthouse Square inside the historic 1906 Athens Visitors Center building at 100 North Beaty St. at the Big Spring Memorial Park.  For more information about upcoming events please go to www.VisitAthensAL.com or call us at (256) 232-5411 Monday through Friday 8 a.m. – 4:30 p.m.  We're What You Love About The South.
By: Tina Morrison, Tourism Athens