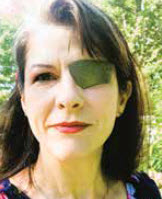 By: Stephanie Reynolds
How does one even begin to introduce oneself in print?
"Hello, Athens!"–Eh, generic
"My fellow Athenians"–Entirely too presidential (but putting it in my pocket for later. You never know.)
"Hajimamashite…Hola… annyeonghaseyo…hafa adai!…"–Hmm…fun or pretentious?
Hey! I know! Maybe I should write a poem! –Yeah. No.
I sigh and take a sip of too-hot coffee from a handmade copper tumbler.
"Maybe," I think hopefully, "That, itself, was enough of an intro, and I can just move on. People know the first sentence is the hardest. It's like the first workout or the first date—everything is slightly awkward and official. But once you get past the 'first," you can go forever. Or till you hit your word count."
I'm Stephanie. I just started working for the fabulous Athens-Limestone Tourism Association. I have met fabulous people and ate fabulous cake (twice!) in just the first week I was here.
(Why, yes, I do own a thesaurus; it's on my phone. Why do you ask?)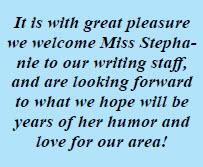 How might I describe myself? Hmm…I think "interested" is pretty fitting. I love to learn and teach. I love to help and explore. I like to think and do. I like to try to relate to everyone in some way. There really is very little I am not willing to try.
And I really love to see what makes other people light up. When someone is in their zone and starts talking in animated rushes, that is one of my absolute favorite things. If you want someone to geek out with you, I'm your gal.
Some of the things that make me all happy include:  teaching (anybody, anything), sitting in quiet thought, swimming, archery, philosophy, Haribo gummy bears, researching anything at all, k-dramas, crocheting, airports, ducks, trail running, rucking (walking with a weighted backpack), cosplay, video games, theology, reading, public speaking, pets, Ani-ramen days (where we have a bunch of folk over to watch anime, win prizes, and eat ramen), YouTube wormholes, sci-fi, fishing, home improvement, emergency management, personal challenge, poetry…honestly, there is very little that I don't have at least a passing interest in.
I have one degree in psychology, two dogs, three cats, and an assortment of chickens, ducks, peafowl, and homing pigeons. I homeschooled our 2 incredible children, which was positively delightful. We ran our house like a little Renaissance enclave where everyone had their studies and art and research and projects. I also worked in emergency management, mostly doing plan writing, which I love.
I am a third-generation military wife. My grandfather, father-in-law, uncle, father, cousin, aunt, brother, husband, and other grandfather all served. I like to say "National security is our family business."
Being military, I never lived anywhere longer than three years and a week until we moved to Alaska in 1999. We spent almost 14 years there until my wonderful husband retired, and we knew we needed to come down south to thaw. I LOVE heat and humidity. August in the South is like getting to be in a high class nature sauna, dripping with flowers and fruit and green–but for FREE! I love it.
Quickly we settled on Alabama, then Athens, which brings me to this article…
See, we've lived here for 10 years, yet often I hear about some local place or event I haven't been to. Not only is that embarrassing as a resident of this wonderful county, but also a little humbling for a budding tourism professional.
It might be the same for some of you.  I remember a quote from one of my favorite books: "If you visit (a place) for a week, you will see some of the things you want to. If you visit for a month, you will see all the things you want to. But if you live there, you never see anything at all."
So let's change that, you and me. Let's look at Athens and Limestone County with a fresh eye. I'm going to start visiting local events, organizations, areas, and report back to you. YOU can help me by recommending any organization, artisan group, event, nature place, meeting, etc. that you think is a hidden gem. Stop by and say hello or email them to me at stephanie@visitathensal.com.
(Huh. This reminds me of the time I learned how to firewalk…)
By: Stephanie Reynolrs
Athens-Limestone Tourism Association