By: Ali Elizabeth Turner
Was it really only August of 2021 that we had the grand opening of Athens Alehouse & Cellar? Already it seems like they have been with us for ages, and the first six months have established them as a bright spot for gathering together indoors or out in downtown Athens.
Athens Alehouse had been a dream of Ken and Lori Hill for years, and they have strategically built the business into a warm, well-appointed place for folks to get together after work. There is a large assortment of carefully selected beer, both bottled and on tap. The same care has been extended to the selection of wine, and Lori has designed delicious food offerings to go with both.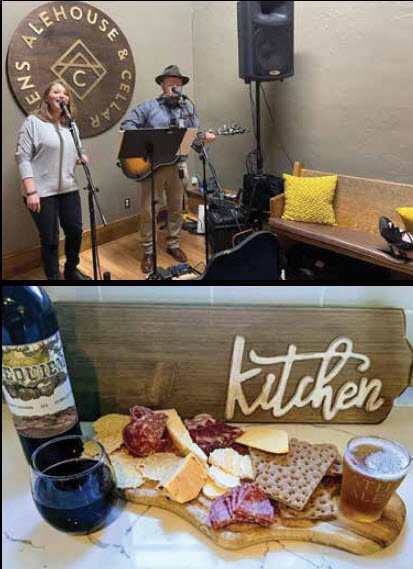 By way of back story, Ken served for 12 years in the US Army as a combat engineer. Lori held down the homefront, and then for a while when Ken came home, he was at home with their children while Lori continued her career with a defense contractor. They knew they wanted to do a business together as a family, and when the Razor's Edge barber shop became available, they invested everything to remodel it to make the space trendy while keeping the old, exposed brick charm. The original barber shop pole signs on the outside will stay there forever, and it's enjoyable to engage in conversations wherever you choose to sit or stand. The kids are in and out, and there are times you need to be sure you aren't treading upon some freshly created chalk street art when you come in the door. The kids also help appropriately, and sometimes the youngest is napping in his car seat back in the kitchen.
Ken and I have chatted more than once about how "crazy hungry" people are for community since COVID, and this is a good place to land. I think that for me one of the things that makes me comfortable about Athens Alehouse & Cellar is knowing that it is owned and operated by a veteran with extensive experience in theatre. And, having a wife who in her own way was deployed at home and had to dig deep to keep everything running well is crucial. I know the fierceness of a warrior's heart to protect everyone under their watch, and I see it at the Alehouse.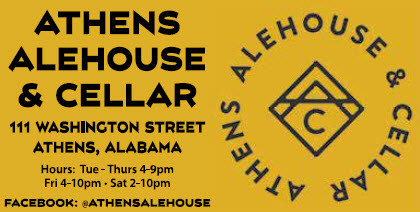 Speaking of heart, that special day when we celebrate love is coming up, and the Hills have come up with some grand things for both the Chocolate Walk on Saturday as well as for Valentine's Day. For those of you who are not familiar with Chocolate Walk, it is a wildly popular event that is held each year on the Square and is sponsored by Main Street. Participating vendors prepare various types of chocolate goodies, but it was necessary to purchase a ticket in advance in order to partake. This year, the 300 tickets sold out in 27 minutes! Ken swore me to secrecy as to what they are going to give the "Chocolate Walkers" of any age. What he did tell me is that "It will be utterly unique; something I had never heard of."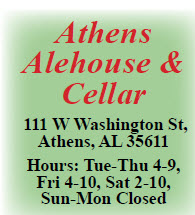 Lori, in partnership with Athens Florist has designed a custom Valentine's Day gift basket that will feature a floral arrangement and recommended wine selection. The basket is fifty dollars for the base price, and the wine is extra. Orders for the baskets must be made by February 10.
On February 10, Athens Alehouse & Wine Cellar will be hosting their first Comedy Night. There will be two performances, one at 7 p.m. and the other at 9 p.m., and tickets are $15 dollars to hear comics who have performed in the Nashville and Huntsville comedy scene. The group is headed up by Tony C. (whose last name is Capobianco) and will be held in the special event portion of the Alehouse which is located in the rear of the building. Tickets are required, and Ken wanted people to understand that they need to "respect the comedians—no phone filming." Tony has performed for such diverse audiences as Harvard Business School, the Army National Guard, Air Force, and the Marines. He also opened for Preacher Lawson at the Wilbur Theater.
Taking a peek at our St. Paddy's day on the horizon, there will be an all-Athens street fair like the one that was held for Athoberfest, and Washington Street will be closed from the RR tracks to Marion Street. It will be complete with a Celtic band, all manner of green things to consume, and more to dish soon! If you haven't visited Athens Alehouse & Cellar yet, stop by in February for the festivities that have been planned with love.
By: Ali Elizabeth Turner